Saturday, August 5, 2017 from 4PM
At The Colburn School (LA downtown)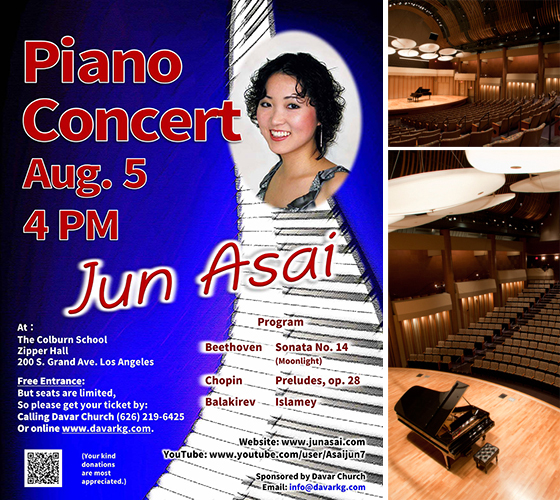 【Program】
Beethoven Sonata No. 14 (Moonlight)
Chopin Preludes, op. 28
Balakirev Islamey
A laureate at many international competitions, Colburn alumna and pianist Jun Asai returns in a program featuring three great works from the 19th century. Opening the program will be Beethoven's "Moonlight" sonata (a title originating not from the composer himself but from the German poet Ludwig Rellstab), followed by Chopin's Preludes, traversing the gamut of all 24 keys. Rounding out the program will be Balakirev's Islamey, a pianistic tour de force, inspired by the composer's visits to the Caucasus region and its colorful folk music. This recital is sponsored by Davar Church, where she currently serves as Music Director.
Tickets are now Sold Out!
[Profile]
Jun Asai has performed with the L.A. Philharmonic, Glendale Philharmonic, Fort Worth Symphony, Utah Symphony, Nagoya Philharmonic and Shanghai Philharmonic. Winners of various prizes, including at L.A. Phil's Kaper Awards, the National Chopin Competition, Shanghai Int'l Competition, Joanna Hodges Int'l Competition, Bachauer Int'l Competition, New Orleans Int'l Competition, Città di Cantù Int'l Piano Competition, etc. Her teachers include Eduardo Delgado, Daniel Pollack, Oxana Yablonskaya, and Yoheved Kaplinsky. She has also worked with John O'Conor, Arie Vardi, Mikhail Voskressensky and Nelita True in various masterclasses. She gave her debut recital at Carnegie's Weill Hall in 2002, appeared four times on the TV program "Musical Encounter," and played the role of a piano prodigy in "Sneakers" with Robert Redford. She was born in Tulsa, Oklahoma, and grew up locally in Pasadena where she took lessons at the Pasadena Conservatory of Music and later at the Colburn School of Music. She entered the Juilliard School at the age of 15, graduated with a Master's Degree in 2004 and is currently in the doctoral program at the Johns Hopkins University under the tutelage of Leon Fleisher. She serves as music director at Davar Church in Pasadena.
[Direction]
The Colburn School
Zipper Hall
200 S Grand Ave, Los Angeles, CA 90012
The Colburn School is located on the east side of Grand Avenue, one block south of First
Street, diagonally across the street from the Walt Disney Concert Hall. The main entrance
to the school is located at 200 South Grand Avenue between Second and Third Streets.